AC/DC es una mítica y excepcional banda de Hard Rock de origen australiano formada en el año 1973. Creo que no hay mucho que contar y explicar... todo sobre la banda lo dice su estatus, su discografia y sus fans que hoy en dia siguen disfrutando más que nunca de éstos viejos e inmortales rockeros de la "old school".
A pesar del paso del tiempo, AC/DC ha mostrado siempre seguir en una misma e imperecedera línea musical que les ha dado inumerables exitos, como "Thunderstruck", "Highway to Hell", "Hell's Bells" y muchísimas más. Se basan en un Hard Rock con mucha potencia y apoteósicos y memorables riffs. Sus voces son agresivas y en general, su música es apasionante. Sin duda, el mejor Hard Rock de todo el mundo nacen de los instrumentos de AC/DC desde que sacaran su primer disco.
Recomiendo todos, sin excepción, pero yo me quedo con los míticos: "Back in Black", "Highway to Hell", "The Razors Edge", "Who made who", "High Voltage" y "T.N.T."
High Voltage (1975)

1. Baby, Please Don't Go (Big Joe Williams) 4:50
2. She's Got Balls 4:51
3. Little Lover 5:39
4. Stick Around 4:44
5. Soul Stripper (Angus Young, Malcolm Young) 6:25
6. You Ain't Got a Hold on Me 3:31
7. Love Song 5:14
8. Show Business 4:46



T.N.T. (1975)

1. It's a Long Way to the Top (If You Wanna Rock 'n' Roll) 5:15
2. Rock 'n' Roll Singer 5:04
3. The Jack 5:52
4. Live Wire 5:49
5. T.N.T. 3:35
6. Rocker 2:51
7. Can I Sit Next to You Girl (A. Young, M. Young) 4:12
8. High Voltage 4:22
9. School Days (Chuck Berry) 5:21



Dirty Deeds Done Dirt Cheap (1976)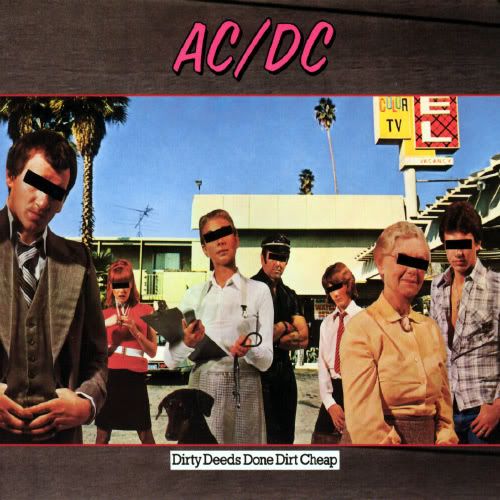 1. Dirty Deeds Done Dirt Cheap
2. Love At First Feel
3. Big Balls
4. Rocker
5. Problem Child
6. Theres's Gonna Be Some Rockin'
7. Ain't No Fun (Waiting Round To Be A Millionaire)
8. Ride On
9. Squealer



Let There Be Rock (1977)

1. Go Down 5:20
2. Dog Eat Dog 3:35
3. Let There Be Rock 6:07
4. Bad Boy Boogie 4:28
5. Overdose 6:09
6. Crabsody In Blue 4:45
7. Hell Ain't a Bad Place to Be 4:15
8. Whole Lotta Rosie 5:22



Powerage (1978)

1. Rock 'n' Roll Damnation 3:05
2. Gimme a Bullet 3:00
3. Down Payment Blues 5:50
4. Gone Shootin 4:19
5. Riff Raff 5:14
6. Sin City 4:40
7. Up to My Neck in You 4:58
8. What's Next to the Moon 3:15
9. Cold Hearted Man 3:15
10. Kicked in the Teeth 3:45



Highway To Hell (1979)

1. Highway to Hell 3:26
2. Girls Got Rhythm 3:23
3. Walk All Over You 5:08
4. Touch Too Much 4:24
5. Beating Around the Bush 3:55
6. Shot Down in Flames 3:21
7. Get it Hot 2:24
8. If You Want Blood (You've Got It) 4:37
9. Love Hungry Man 4:14
10. Night Prowler 6:13



Back In Black (1980)

1. Hells Bells
2. Shoot To Thrill
3. What Do You Do For Money Honey
4. Given The Dog A Bone
5. Let Me Put My Love Into You
6. Back In Black
7. You Shook Me All Night Long
8. Have A Drink On Me
9. Shake A Leg
10. Rock And Roll Ain't Noise Pollution



For Those About to Rock (We Salute You) (1981)

1. For Those About To Rock (We Salute You)
2. Put The Finger On You
3. Let's Get It Up
4. Inject The Venom
5. Snowballed
6. Evil Walks
7. C.O.D.
8. Breaking The Rules
9. Night Of The Long Knives
10. Spellbound



Flick Of The Switch (1983)

1. Rising Power
2. This House Is On Fire
3. Flick Of The Switch
4. Nervous Shakedown
5. Landslide
6. Guns For Hire
7. Deep In The Hole
8. Bedlam In Belgium
9. Badlands
10. Brain Shake



Fly On the Wall (1985)

1. Fly On The Wall
2. Shake Your Foundations
3. First Blood
4. Danger
5. Sink The Pink
6. Playing With The Girls
7. Stand Up
8. Hell Or High Water
9. Back In Business
10. Send For The Man



Who Made Who (1986)

1. Who Made Who
2. You Shook Me All Night Long
3. D.T.
4. Sink The Pink
5. Ride On
6. Hells Bells
7. Shake Your Foundations
8. Chase The Ace
9. For Those About To Rock (We Salute You)



Blow Up Your Video (1988)

1. Heatseeker
2. That's The Way I Wanna Rock 'n' Roll
3. Meanstreak
4. Go Zone
5. Kissin' Dynamite
6. Nick Of Time
7. Some Sin For Nuthin'
8. Ruff Stuff
9. Two's Up
10. This Means War



The Razor's Edge (1990)

1. Thunderstruck
2. Fire Your Guns
3. Moneytalks
4. The Razors Edge
5. Mistress For Christmas
6. Rock Your Heart Out
7. Are You Ready
8. Got You By The Balls
9. Shot Of Love
10. Lets Make It
11. Goodbye & Good Riddance To Bad Luck
12. If You Dare



Ballbreaker (1995)

1. Hard As A Rock
2. Cover You In Oil
3. The Furor
4. Boogie Man
5. The Honey Roll
6. Burnin' Alive
7. Hail Caesar
8. Love Bomb
9. Caught With Your Pants Down
10. Whiskey On The Rocks
11. Ballbreaker



Stiff Upper Lip (2000)

1. Stiff Upper Lip
2. Meltdown
3. House Of Jazz
4. Hold Me Back
5. Safe In New York City
6. Can't Stand Still
7. Can't Stop Rock 'n' Roll
8. Satellite Blues
9. Damned
10. Come And Get It
11. All Screwed Up
12. Give It Up



Black Ice (2008)

1. Rock 'n Roll Train
2. Skies On Fire
3. Big Jack
4. Anything Goes
5. War Machine
6. Smash N Grab
7. Spoilin' For A Fight
8. Wheels
9. Decibel
10. Stormy May Day
11. She Likes Rock N Roll
12. Money Made
13. Rock N Roll Dream
14. Rocking All The Way
15. Black Ice




Editor:Lord_Mayhem
Uploader:Gabriel
Pass:metalbajo0.blogspot.com
Host:Mediafire