Rhapsody Of fire (Anteriormente solo Rhapsody pero debido a un problema con su disquera se cambiaron el nombre) banda de Trieste, Italia fundada en 1993 y con 7 discos de estudio en su haber.
El estilo de la banda es de Power Metal sinfonico con ciertos toques progresivos muy bien logrados y con una realizacion implecable, claro que sus letras pueden llegar a ser algo frikis.
Discos que recomiendo: "Dawn of Victory" y "Sympony Of Enchanted Lands".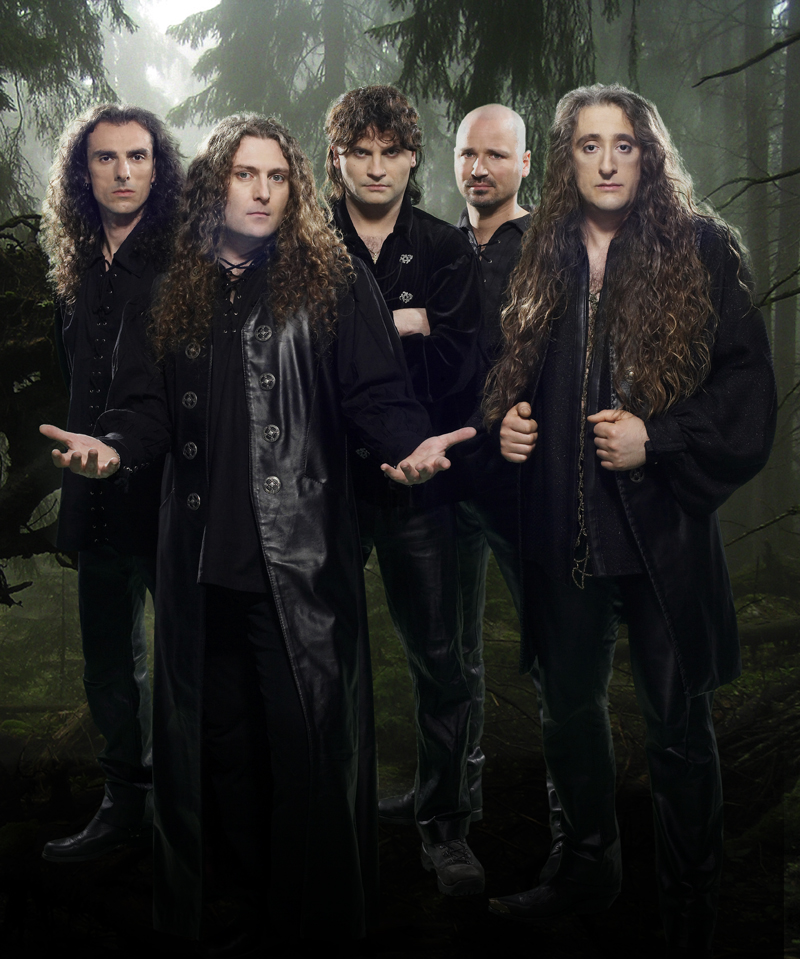 Legendary Tales (1997)

1. Ira Tenax - 1:13 (a choral intro in Latin)
2. Warrior of Ice - 5:57
3. Rage of the Winter - 6:09
4. Forest of Unicorns - 3:23
5. Flames of Revenge - 5:32
6. Virgin Skies - 1:20
7. Land of Immortals - 4:50
8. Echoes of Tragedy - 3:31
9. Lord of the Thunder - 5:31
10. Legendary Tales - 7:49

Symphony of Enchanted Lands (1998)

1. "Epicus Furor" – 1:14
2. "Emerald Sword" – 4:21
3. "Wisdom of the Kings" – 4:28
5. "Eternal Glory" – 7:29
6. "Beyond the Gates of Infinity" – 7:23
7. "Wings of Destiny" – 4:28
8. "The Dark Tower of Abyss" – 6:46
9. "Riding the Winds of Eternity" – 4:13
10. "Symphony of Enchanted Lands" – 13:16

Dawn of Victory (2000)



1. "Lux Triumphans" – 2:00
2. "Dawn of Victory" – 4:47
3. "Triumph for My Magic Steel" – 5:46
4. "The Village of Dwarves" – 3:52
5. "Dargor, Shadowlord of the Black Mountain" – 4:48
6. "The Bloody Rage of the Titans" – 6:23
7. "Holy Thunderforce" – 4:21
8. "Trolls in the Dark" – 2:32
9. "The Last Winged Unicorn" – 5:43
10. "The Mighty Ride of the Firelord" – 9:15

Rain of a Thousand Flames (2001)

1. "Rain of a Thousand Flames" – 3:43
2. "Deadly Omen" – 1:48
3. "Queen of the Dark Horizons" – 13:42
4. "Tears of a Dying Angel" – 6:22
5. "Elnor's Magic Valley" – 1:40
6. "The Poem's Evil Page" – 4:04
7. "The Wizard's Last Rhymes" – 10:37

Power of the Dragonflame (2002)

1. "In Tenebris" – 1:28
2. "Knightrider of Doom" – 3:56
3. "Power of the Dragonflame" – 4:27
4. "The March of the Swordmaster" (traditional by Pierre Attaingnant) - 5:03
5. "When Demons Awake" – 6:46
6. "Agony Is My Name" – 4:57
7. "Lamento Eroico" – 4:38
8. "Steelgods of the Last Apocalypse" – 5:48
9. "The Pride of the Tyrant" – 4:53
10. "Rise from the Sea of Flames" (Limited Edition Bonus Track) – 3:57
11. "Gargoyles, Angels of Darkness" – 19:02

Symphony of Enchanted Lands II: The Dark Secret (2004)



1. "The Dark Secret" - Ira Divina – 4:12
2. "Unholy Warcry" – 5:53
3. "Never Forgotten Heroes" – 5:32
4. "Elgard's Green Valleys" – 2:19
5. "The Magic of the Wizard's Dream" – 4:30
6. "Erian's Mystical Rhymes - The White Dragon's Order" – 9:15
7. "The Last Angels' Call" – 4:36
8. "Dragonland's Rivers" – 3:44
9. "Sacred Power of Raging Winds" – 10:06
10. "Guardiani del Destino" – 5:50
11. "Shadows of Death" – 8:13
12. "Nightfall on the Grey Mountains" – 7:20

Triumph or Agony (2006)

*


1. "Dar-Kunor – 3:13
2. "Triumph or Agony" – 5:02
3. "Heart of the Darklands" – 4:10
4. "Old Age of Wonders" – 4:35
5. "The Myth of the Holy Sword" – 5:03
6. "Il Canto del Vento" – 3:54 (Lione)
7. "Silent Dream" – 3:50
8. "Bloody Red Dungeons" – 5:10
9. "Son of Pain" – 4:43
10. "The Mystic Prophecy of the Demon Knight" – 16:26
11. "Dark Reign of Fire – 6:26

The Frozen Tears of Angels (2010)

1. "Dark Frozen World" 2:13
2. "Sea of Fate" 4:48
3. "Crystal Moonlight" 4:25
4. "Reign of Terror" 6:53
5. "Danza di Fuoco e Ghiaccio" (Dance of Fire and Ice) 6:25
6. "Raging Starfire" 4:56
7. "Lost in Cold Dreams" 5:12
8. "On the Way to Ainor" 7:26
9. "The Frozen Tears of Angels" 11:15

Uploader:Gabriel/Mercyless666
Pass:metalbajo0.blogspot.com
Host:Mediafire